Descargar Keepin' It Fresh 4 Torrent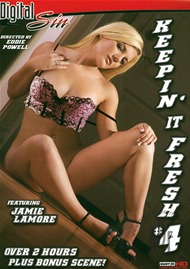 Keep it hot and keep it fresh! That s how we do it at digital sin! So come and have some fun with 5 cute young girls as they get their little pussies fucked beyond recognition. Jodi Bean gets tagged by Ralph Long s rooster cock. Stephanie Sage gets an extra large serving of dick by Johnny Castle. Jamie Lamore and Lacy Holiday each get their boom-booms busted by the thunder rod of Alex Gonz. And Michelle Brown s pussy gets pounded into the ground by James Deen. All these tight and fresh pussies are a perfect fit for a rock hard cock!
Genero:
Adulto
Formato:
XViD
Fecha: 06/3/2009
Idiomas:
English
Tamaño: 4.36GB
Descargar Torrent
Cast: Jamie Lamore, Stephanie Sage, Jodi Bean, Lacy, James Deen, Alex Gonz,Johnny Castle, Ralph Long
Peliculas del mismo genero ...