Descargar Rock Of Ages Torrent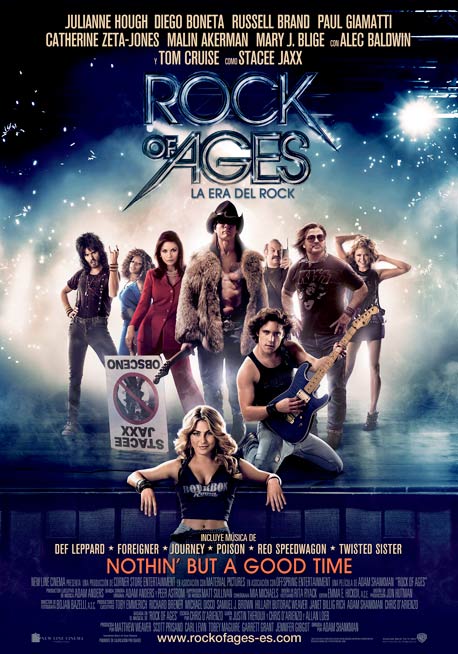 La película "Rock of Ages (La Era del Rock)", que lleva a la gran pantalla un musical de Broadway, nos relata la historia de Drew, un aspirante a roquero que trabaja en un club, y de Sherrie, una chica que llega al local con la intención de hacer realidad sus sueños. Ambos se enamoran y se opondrán a que el sitio caiga en manos de unos empresarios que quieren demolerlo.
Genero:
Musical
Formato:
XViD
Fecha: 12/5/2012
Idiomas: English, Español
Subtitulos:
Español
Tamaño: 4.36GB
Descargar Torrent
Rock of Ages

Titulo original: Rock of Ages
Dirección: Adam Shankman
País: USA
Año: 2012
Duración: 123 min.
Género: Musical
Guión: Chris D'Arienzo, Justin Theroux y Allan Loeb
Producción: Jennifer Gibgot, Carl Levin, Tobey Maguire, Scott Prisand y Matt Weaver
Fotografía: Bojan Bazelli
Montaje: Emma E. Hickox
Vestuario: Rita Ryack
Estreno en España: 10-08-2012

Reparto: Tom Cruise (Stacee Jaxx), Julianne Hough (Sherrie), Russell Brand (Lonnie), Paul Giamatti (Paul Gill), Catherine Zeta-Jones (Patricia), Malin Akerman (Constance), Mary J. Blige (Justice), Alec Baldwin (Dennis), Diego Boneta (Drew
Peliculas del mismo genero ...