Descargar The Babymakers Torrent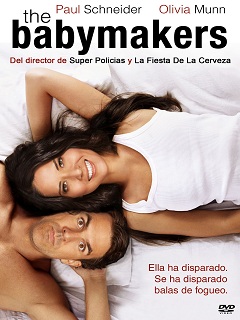 Tras varios intentos de dejar embarazada a su mujer sin éxito, un hombre (Schneider) pide a sus amigos que roben el depósito de esperma que años atrás dejó en un banco de donaciones de esperma.
Genero:
Comedia
Formato:
XViD
Fecha: 02/23/2013
Idiomas: English, Español
Subtitulos:
Español
Tamaño: 4.25GB
Descargar Torrent
TITULO ORIGINAL: The Babymakers
TITULO ESPAÑOL: Los Babymakers
AÑO: 2012
PAIS: Estados Unidos
DURACION: 91 min.
DIRECTOR: Jay Chandrasekhar
GUION: Peter Gaulke, Gerry Swallow
MUSICA: N/A
FOTOGRAFIA: Frank G. DeMarco
PRODUCTORA: Duck Attack Films / Alliance Films / Automatik Entertainment
GENERO: Comedia
REPARTO: Paul Schneider, Olivia Munn, Michael Yurchak, Wood Harris, Kevin Heffernan, Nat Faxon, Lindsey Kraft, Constance Zimmer, Aisha Tyler, Jude Ciccolella, Soren Hellerup, Tom Wright, Tommy Dewey, Sharon Maughan, Tony Sancho




Peliculas del mismo genero ...